A few customers telephone a company at the same time, which completely prevents others from making a connection. On top of that, other customers ask questions on the chat, and there are e-mails and website contact forms to be answered… Who to serve first? And who should serve them? The routing function provides a solution here.
Routing was first used for managing telephone calls, therefore it is quite often referred to as 'call routing'. Explained below are the routing principles, with the telephone channel as an example.
5 benefits of routing
Routing offers five very important benefits:
More answered calls – Customers do not hang up after hearing the busy signal but wait for their call to be answered. Additionally, the number of answered calls increases, as calls are redirected to a few employees at the same time;
Lower irritation of customers waiting for the connection – A customer who waits for a connection becomes the most annoyed when he/she hears the busy signal for a longer while. Thanks to the routing, the customer is informed about his/her place in a queue and about an estimated waiting time for the connection with a consultant. The customer who waits for the connection listens to music or an advert and can leave a voice message;
Better sales, faster service – thanks to the immediate routing of calls to appropriate departments, or even persons with specific skills and expertise;
The calls from important persons are always answered – This is achieved thanks to algorithms which place such calls at the beginning of the queue and thanks to simpler solutions, such as redirection of calls from top customers to a dedicated number;
Shorter connection waiting lines – If queues become exceptionally long, some calls can be diverted to individuals from other departments or to external agents.
Routing – how does it work?
The simplest system:
A customer telephones the company,
He/ She hears an automatic welcoming message, a request to wait for the connection and, then, music.
Meanwhile his/her call is routed to appropriate persons and it is either answered immediately or placed in a queue until one of those persons is able to answer a given call (i.e. after finishing the previous conversation or completing another activity that prevents the immediate answering of the call).
If none of those persons answers the call within the specified time, the call is diverted to voice mail.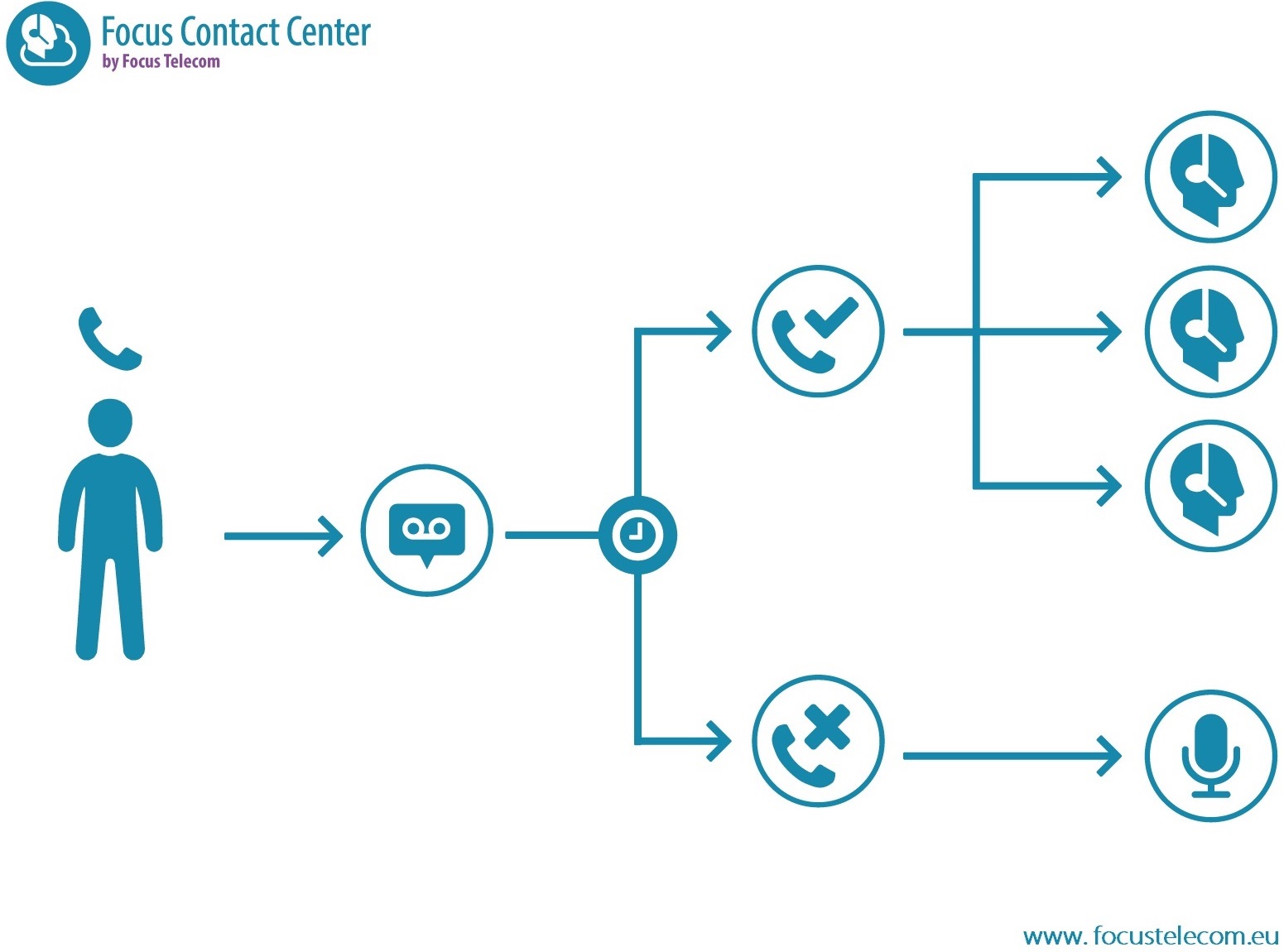 Redirection to groups
In step 3 the call is routed to a group of users (e.g. from sales department or customer service office), who are assigned one joint (external or internal) number. Depending on the system configuration, a given call is redirected according to one of the sample strategies:
Group-based, i.e. to all individuals from a group. If there is no queue, the call will be answered by the most eager individual. If there is a queue – by the first person who finishes his/her previous conversation. This solution offers the greatest guarantee that the call will be answered before the customer hangs up, but it does not allow to determine which agent is best-suited to serve a given connection.
Line-based – Numbers are assigned to individuals from a given group. The call is diverted to the person with the lowest number, who is not conducting any other conversation at a given moment. (Where none of the agents is engaged in a conversation, the call will be directed to the agent with number 1.) This strategy is useful where the agents from a given group carry out diverse duties. For instance, the agents with numbers 1, 2, 3 chiefly answer telephones. The agents with numbers 4, 5, 6 also have other important duties. The agents with numbers 7, 8, 9 usually deal with other matters and only answer telephones if all other agents are busy.
Fewest calls – The call is answered by an agent who, until that time, has answered the smallest number of calls.
It is possible to configure many types of queues. In addition to those listed above, these can be: random queues; round robin queues; different queues for different times of day, business days and weekends; queues depending on the caller's geolocation, etc.
The call routing offers many additional benefits, such as: an option to divert a call to an appropriate person; guaranteed immediate service of key customers; facilitating remote work; assistance in case of exceptionally large numbers of callers waiting for the connection, and management of the communication channels service order. Find out about suitable solutions in the next post "Call Routing – Advanced Solutions".