The rapid growth of new client communication channels, such as chats, Facebook or mobile applications, seems to indicate that telephone service will no longer be necessary soon. So, in that case, is it worth improving corporate telephone helplines? Do customers, also the younger ones, still need quality telephone service?
Described below are customer survey results and experience of multi-channel service centres:
1. Most of customers want to make contacts by telephone.
Even in the most developed countries, such as the United States, Canada, Germany or Japan, nearly 3/4 of customers choose telephone when they want to contact a customer service department or have a problem with making a purchase (acc. to Forrester 2015 research). Despite the development of new communication channels, the popularity of telephone has remained almost unchanged for the past few years.
2. Telephone, chat or Facebook – the choice is not always determined by age
The younger Internet users are more inclined to use digital channels: mobile applications, chats, Twitter, Facebook, etc. However, when it comes to selecting the channel of communication with a retailer, the channel-related preferences become less important, or, to be more precise, are important for only 16% of shoppers (Corporate Executive Board 2013, CX Act 2015, LoudHouse 2013). What counts for the majority of customers is mainly the effect – Will they manage to get a quick answer to a question or fix a problem without delay? Here, irrespective of age, the largest number of the Internet users expect that their problem will be solved during the first contact with a consultant when they use the telephone.
It may happen that improved service in digital channels will reduce the utilisation of the telephone by customers, at least in the case of simpler issues. Customers, in particular the young and middle generations, are open to novelties and want to communicate online (CX Act 2015, Millennial Research 2015, Global Contact Center Benchmarking Report 2015). However, it is still the effectiveness of telephone contact that they currently trust most.
3. Difficult and urgent issues – resolved by telephone
When it comes to general enquiries about offers, customers appreciate 'live' contact – directly at a store, by telephone or, less frequently, through a chat – because it allows to ask about additional details (CX Act 2015, Customer Service Benchmark 2013).
Also in case of complaints customers are most likely to use the phone – depending on the sector, sometimes with the same frequency as sending an e-mail.
Telephone is also the most frequent choice when time is of essence to customers. According to research, customers believe the telephone is a channel which ensures the fastest service – most of them expect an issue to be resolved within 30 minutes on the phone and within the entire day in case of contacts through social media (Facebook, Twitter, etc.) or
e-mail (a LoudHouse survey conducted in the world's 10 most developed countries in 2013). In customers' opinion, a chat also provides a quick answer but it is seen much less often as a suitable communication channel for complicated matters (CX Act 2015).
4. Low satisfaction with telephone service
British research indicates that telephone service is rated worse than service via e-mail, chat, traditional post, mobile applications or social media (Customer Service Benchmark 2013). Main reasons for dissatisfaction with telephone service:
contact with the machine – pre-recorded answers,
long connection times,
multiple transfers to an appropriate individual,
connection costs.
What has great importance here is the fact that difficult and controversial matters are relatively less frequently solved via 'non-telephone' channels. (See Section 3.) Nevertheless, every decent customer service department should make it a point of honour to reduce the connection waiting time to the minimum and to ensure competent service, aiming to solve a problem 'on the spot'. (See our tips for better service – raising the level of First Call Resolution). Particularly because the service quality is of key importance for the customer loyalty, which is indicated by many surveys. For example, international Accenture analyses show that in 2013 as many as 66% of customers changed at least one service provider due to unsatisfactory service. (This proportion is growing each year.)
5. Telephone – best source of information about customer
A telephone conversation allows to collect a lot of valuable information about customers, which is not to be obtained in any other communication channel. Forthcoming customers are happy to share information on their family situation, work situation or holiday plans, and these insights are a perfect source of excellent personalised offers – ideally in combination with data on the history of purchases, cookies and geolocation. Competencies of a telephone consultant are of critical importance in this respect.
6. Telephone – for strengthening customer bonds
In the absence of direct contact, a telephone conversation offers the biggest chances to establish emotional relations with a customer. This is because of three factors:
real-time communication,
the sound of voice that allows to remember the other person,
ease of communication – We talk faster than we write.
It is hard to tell whether or not a video chat will acquire similar importance because its popularity is too small at the moment.
Establishing lasting relations with a customer is based on serving him/her always by the same consultant / salesperson, which is currently achieved rather easily thanks to the routing functions featured in modern communication systems (such as Focus Contact Center). A possibility of being served by Kasia or Mirek, who already have an excellent knowledge of our needs, is frequently a factor that determines the choice of the retailer (CX Act 2015).
What to go for in customer service? – telephone versus other channels
Serving customers by telephone generates higher costs than serving them via other channels. These costs result from lower productivity of consultants (instead of making one telephone conversation, a consultant could use that time to write at least two e-mails and serve a few chat conversations) and from telecommunication costs. This is why developing and providing other communication channels plus encouraging customers to use them is an economical solution.
But telephone unchangeably remains the most popular channel in contacts with an e-store. Although telephone service is being replaced by other channels in various areas, one should not expect any rapid drop in the use of telephone by customers seeking assistance with general questions, critical comments and complaints. Telephone communication is also beneficial for retailers because of high efficiency of collecting customer information and building relations that promote customer loyalty.
Telephone contacts are still the foundation of customer service although alternative communication channels become more and more popular among shoppers in certain areas. If Internet stores, and also other B2C sector companies, want to compete for loyal customers, they must at the same time ensure a high level of telephone service as well as full integration of data flowing in from all channels available to customers. This is called an omni-channel strategy.
TELEPHONE IN E-COMMERCE – SUMMARY: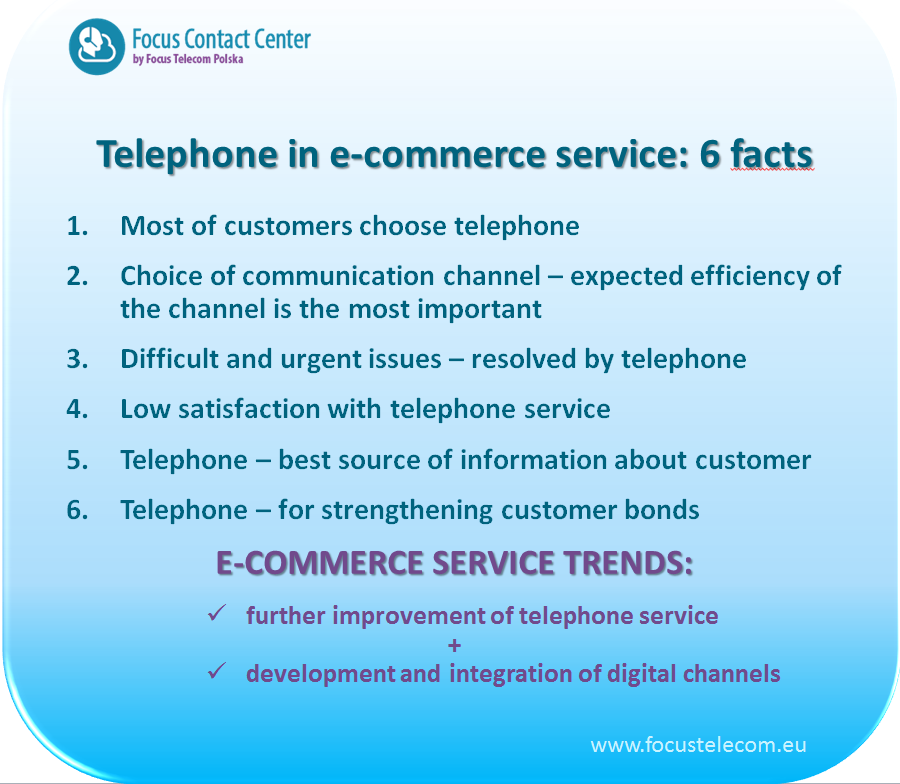 Sources:
Accenture, Global Consumer Pulse Survey 2013
Corporate Executive Board, Rethinking Multichannel Strategy 2013
CX Act, Omni-channel Customer Care 2015
Dimension Data, Global Contact Center Benchmarking Report 2015
eDigitalResearch, Customer Service Benchmark 2013
Forrester Research, Contact Centers Must Go Digital Or Die 2015
LoudHouse, The Omnichannel Customer Service Gap 2013
The Center for Generational Kinetics, The Aspect Consumer Experience Index: Millennial Research on Customer Service Expectations 2015