Quick contact and action, expertise, customisation… Learn about the seven steps in customer service that make customers happy and make them stay longer. Are they worth taking? Read the text and see that it is the only way to develop.
Customer expectations are constantly on the rise. Cyclical consumer surveys conducted in dozens of countries worldwide (including Poland) point to rapid changes in this respect. In 2005, 49% of consumers switched their service providers because of poor customer service. In 2007, the figure went up to 59%, and in 2013 to 66% (Accenture 2013). Customers are conscious and they consider it natural to expect more and more effort from sellers (Loudhouse 2013).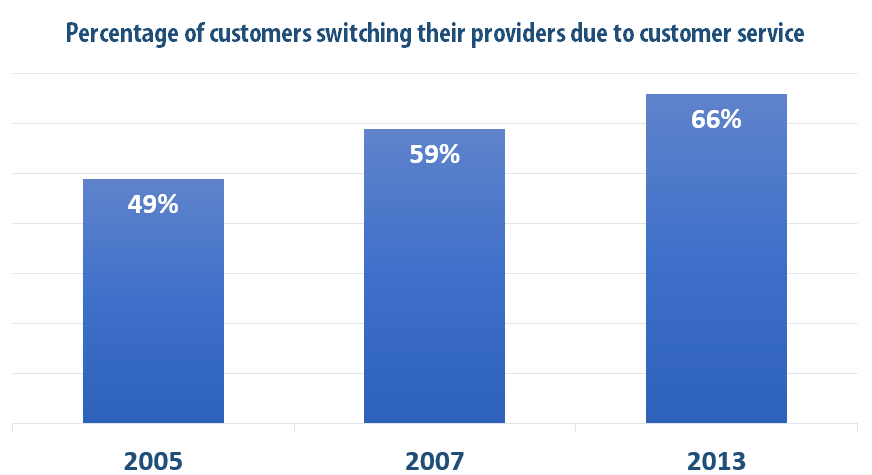 Source: Accenture 2013
Market choices of customers are guided by quality of service. Quality of service is often as important as product price, and in many areas it is even more important than the features of the product or service itself. The conclusion is that today, every retailer has to aim at excellent customer experience. How? Here comes a list of seven steps prepared on the basis of customer surveys conducted in Poland and worldwide.
1. Getting the issue resolved quickly
The resolution time, irrespective of the subject of the raised issue, whether it is a concern about a proposal, a complaint or a question regarding returns, is definitely of utmost importance to customers in every industry.
A shorter time frame means better customer experience.  Appropriate competences of customer service staff are a key factor in reducing issue resolution time. Not everyone is an expert on everything, so it is a good choice to focus on specialisation, and then to handle customer calls in such a manner that specific issues are referred to consultants with relevant expertise. In that case, call queuing is an essential tool.
2. First call resolution…
… or first interaction resolution in other channels.
By analogy to point one, issue handling time does matter, but there is also the question of not disturbing the customer by multiple interactions. As many as 84% of customers are frustrated that they have to contact a company multiple times for the same reason (Accenture 2013).
The solution: 1) training the employees on how to obtain relevant information during the first interaction (call recordings will make a perfect training material), 2) empowering employees (to maximise their authority to decide without consultation), 3) offering tools to consult managers during calls (asking boss 'quietly' in the middle of a customer conversation) and (as already said) 4) providing appropriate call queuing systems that redirect calls to the most competent subject-matter experts. Here you can find more advice on how to implement first-contact resolution in your business.
3. Quick response
Customers hate to wait. One thing is when they wait to have their concerns clarified or issue solved, as discussed above, and the other thing is waiting for the call centre to pick up the call.
Would it be a good solution to shut down the call centres and leave customers with emails which can be answered in a less busy time? No! Most customers want to make contacts by telephone, so we need to ensure that they can do it. Two solutions should be used to avoid customer frustration:
1) appropriate voice menu (IVR) – a user-friendly tool which quickly directs customers to the right department
2) callback automation, a feature of the communication platform (such as Focus Contact Center) excellent for handling less patient customers. If a customer hangs up even after a few seconds of call waiting time, the platform initiates the call automatically. It will call the customer at a predetermined point in time and our employee will say "Good morning/afternoon, I am calling you from XYZ. You have called us. Is there anything I could help you with?"
What about other communication channels? In the case of live chat, customers expect a response within five minutes. For emails or social media contacts, they will accept a 24-hour time frame (LivePerson 2013). However, shorter response time means a better perception of the company as a whole by the customers.
4. Integrated multichannel communication
Today, customers expect to be able to:
communicate with the company using any communication channel of their choice (CX Act 2015, Loudhouse 2013) – it is up to the company to ensure that they can interact through traditional channels (telephone and post) and digital channels (email, live chat, online forms etc.).
freely switch between channels, and that employees interacting with them in further channels will have the information already provided through other channels. Even if talking to a different representative on each occasion, the customer should not need to repeat any information (4 out of 5 customers find situations where they have to repeat the same information extremely inconvenient and discouraging – Accenture 2013).
In view of such expectations, omnichannel becomes a customer service standard. It can be implemented with the use of multichannel communication platforms with a CRM system integrating and recording data across channels.
5. Customisation – individual treatment
Upon the second interaction and, of course, further interactions with the company (for online sales it could even be the first contact with customer service department after a single shopping experience with a store), customers expect the customer service department to communicate relying on all information already obtained by the company. And this is an absolutely legitimate expectation in the era of growing respect for personal data. The company obtains information about what the customer buys, for how much and when, often getting the customer's postal address, email and telephone number, learning about the customer's expectations and needs from conversations or correspondence. Customers share the data and in return, they except quick handling by perfectly informed staff.  For most customers, lack of individual treatment is even more frustrating than the need to use a non-preferred communication channel (CX Act 2015).
The solution, as already mentioned, is to integrate communication, the CRM system, in-call notes and customer identification (automatic recognition of the customer's telephone number, email or live chat ID and password), owing to which the service representative has customer sheets with complete customer information instantly displayed on screen.
6. Customisation – dedicated consultant
Service delivered by the same salesperson or consultant on every occasion is essential in forming an emotional bond with the customer. "Michael knows how to advise me", "Kate is sure to know what I mean" – this is a very good reason to stay with your current provider. A dedicated consultant offers great value to customers. In online selling or virtual customer service, when customer interactions are received by a whole team made up of several people, even dozens of them, the right tools have to be used to redirect the customer to the dedicated consultant. The most effective one is the relationships maintenance tool, a queuing algorithm based on customer identification. The system recognises the person calling/writing/chatting and redirects the interaction to the right employee.
7. Being polite and friendly
Is it obvious? It turns out that not really. Impolite and unfriendly service employees are among the top reasons why customers switch providers (Accenture 2013, Obserwatorium Zarządzania 2013). Importantly, customers understand politeness as adjusting the service style to the 'customer segment'. Busy or careless service employees will often address an 18-year-old and an elderly woman in the same way. It's wrong. What can we do to change that? Regular training and workshops discussing real-life situations are necessary, relying on call recordings, copies of emails and chat transcripts.
Summary
Customer expectations are on the rise, but in parallel, there is a growing range of tools making customer service simple and more effective. Today, a good salesperson has to keep track of (or even anticipate) changes in customer service standards and also to choose the right solutions to meet the ever-increasing customer demands. In the following blog posts you will find even more tips for innovative sellers.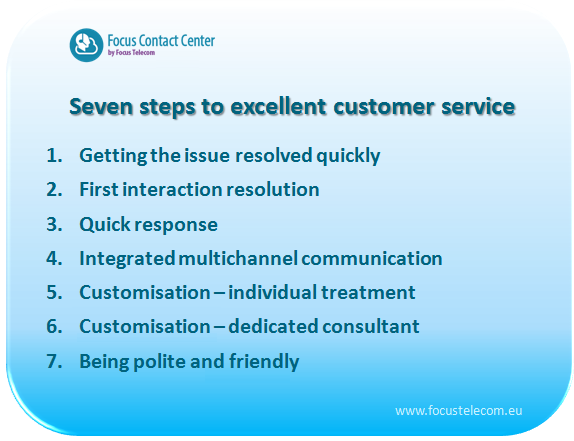 Do you want to learn how to choose communication tools to improve customer experience while reducing the cost of customer service? Contact with us!